ISLAMIC CAR MARKET VALUE
The Halal industry in the UK is worth over £2 trillion and rapidly growing catering for both Muslim and non-Muslim consumers.  With a range of ethical and value-based products the industry offers, we ensure our clients secure the best car loans for their needs.
WHY ISLAMIC CAR FINANCE?
Interest bearing loans are a major cause for the growing levels of individual debt, increase in poverty and disparity in wealth.  With the need for funding, many individuals get caught up in servicing high interest rate payments to lenders, undermining their beliefs & values and leads to a downward spiraling debt trap. 
Islamic Car Finance aims to assist all our clients to secure halal car loans, backed by reputable lenders with minimum fees, without any hidden interest charges at the client's convenience.  We build communities with values, encourage social impact and support to alleviate poverty.
10.3 million
New & used car sales (2019)
32.7 million
35.1 million
£48 billion
Car financing market value (2019)
£2.1 Trillion
Halal industry size (2017)
3.3 Million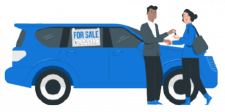 20%
Benefits of Islamic Financing:
01
$2 trillion market in over 70 countries and growing
02
Financial Inclusion allowing greater number of consumers into the economy
03
Reducing Impact of harmful products and practices including Usury and Gambling
04
Financial Justice promotes sharing of net profit and loss
05
Risk Management shared proportionality between lender and beneficiary
06
Investment Stability promoting the reduction of risk and exposure
07
Accelerates Economic Development with high return on investments
08
Banking for All open to Muslims and non-Muslim consumers
09
Transparency conducting business in a fair and transparent manner
10
Ethical & moral promotion of socially desirable investments
11
Discouraging speculation a major source of instability and misallocation of capital
12
Capital deployment to the real economy to promote socio economic justice